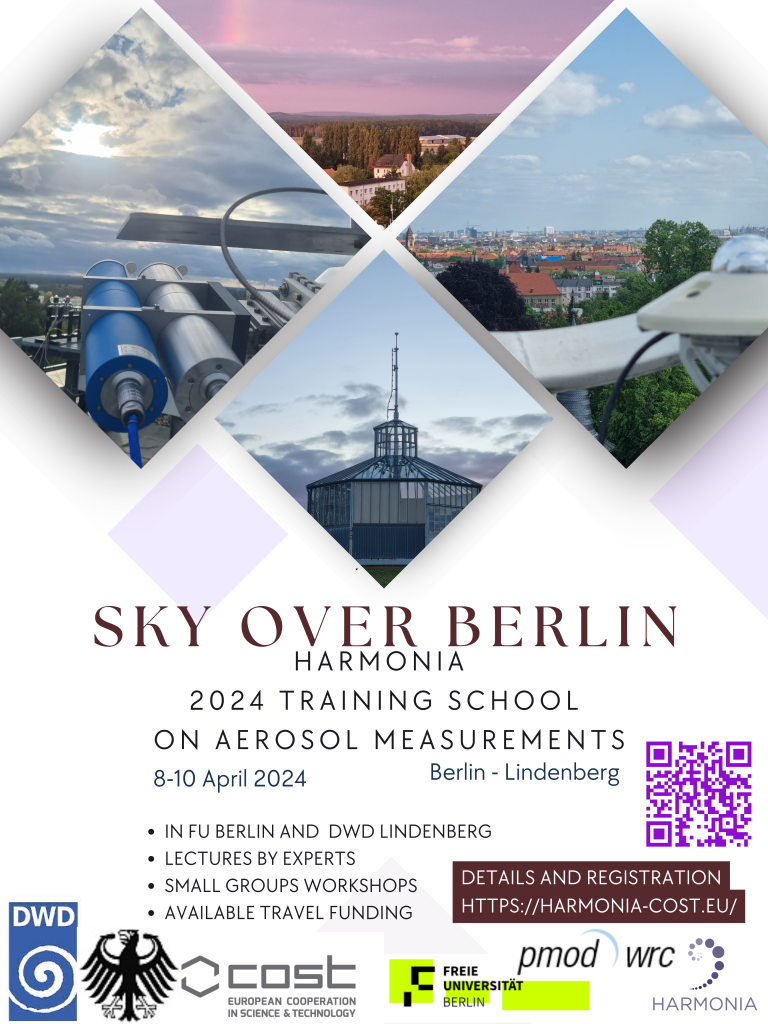 🌐 Announcement: Sky over BerLin Training School – HARMONIA's Aerosol Measurements Workshop
📅 Dates: April 8-10, 2024
🚀 Theme: Training on Aerosol Measurements (Sun Photometry)
📝 Registration Deadline: January 31, 2024
📍 Locations: Berlin and Lindenberg, DE
📢Organizer: HARMONIA COST Action
🏟Host: Deutscher Wetterdienst / Meteorologisches Observatorium Lindenberg – Richard-Aßmann-Observatorium and Freie Universität Berlin / Institut für Meteorologie
🌍 Explore the Skies with Sky over BerLin!
Dear Researchers and Scholars,
We are happy to announce the "Sky over BerLin" Training School, featuring HARMONIA's Aerosol Measurements Workshop, scheduled for April 8-10, 2024. This event is specifically designed for Post graduate, MSc, PhD and early post doc eager to delve into the intricacies of aerosol measurements. Dive deep into the fascinating world of aerosol measurements with HARMONIA's specialized training. Our aim  is the convergence of knowledge and expertise in understanding atmospheric aerosols and the transfer of skills to new generations. Mark your calendars for three immersive days of learning and discovery. This unique opportunity will not only enhance your theoretical understanding but will also provide hands-on experience with real data. As part of the program, we will also visit meteorological observatory of Lindenberg (Deutscher Wetterdienst), providing participants with a firsthand look at state of the art instruments.
🚀 Workshop Highlights:
Interactive Exercises: Engage in workshop exercises conducted by different teams, guided by experienced supervisors.
Observatory Visit: Explore DWD meteorological observatory of Lindenberg and gain insights into the latest advancements in aerosol research.
Instrument Tour: Get up close and personal with state-of-the-art instruments during an exclusive tour.
Hands-on Training: Apply your knowledge to real-world scenarios through hands-on training sessions with authentic aerosol data.
Lectures: High Profile Experts in Aerosol Science will speak about different aspects of Remote Sensing
📝 Registration Details:
Secure your spot by registering before January 31, 2024. Limited spaces are available, so act fast to ensure your participation in this enlightening experience.
REGISTER
🌐 Travel Grants Available:
To facilitate your participation, travel grants are available for eligible attendees. (Funding: Up to 900 Euros). Seize this opportunity to be part of a transformative learning experience.
Don't miss out on the chance to expand your expertise in aerosol measurements and contribute to the future of atmospheric science. Join us at Sky over BerLin and elevate your research journey.
See you in the skies over Berlin!